Harbor House Clubhouse, Laguna Niguel, CA est. 2016
Harbor House is the second Orange County Clubhouse started by the Alliance of Abilities.
---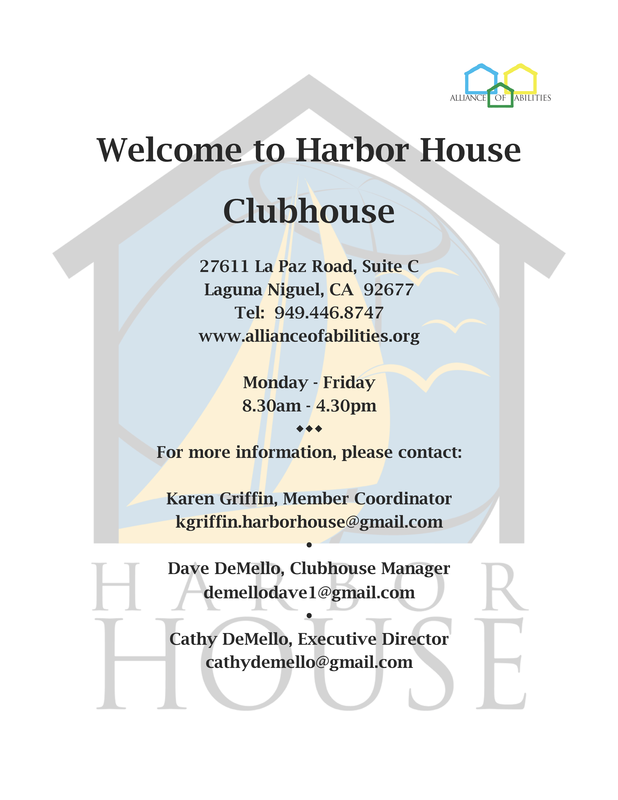 ---
Clubhouse Areas
Clubhouse members work in areas within Harbor House, each area serving a unique purpose and is essential to running the Clubhouse. According to the International Standards, "members have the opportunity to participate in all work of the clubhouse, including administration, research, enrollment, and orientation, reach out, hiring, training and evaluation of staff, public relations, advocacy and evaluation of Clubhouse effectiveness".
For more information about Clubhouses, check out the Integrity House tour video.
If you would like to schedule a tour of Harbor House, contact us via email, phone, or simply complete the form below.
---
Integrity House Tour Video
---
---
Our Location
Harbor House
27611 La Paz Rd. Suite C
Laguna Niguel, CA 92677
Phone: (949) 446-8747
Fax: (714) 542-2155
E-Mail: info@allianceofabilities.org